9th March: All day I couldn't do anything except thinking of the Sidsel's arrival. The afternoon came and I was waiting in front of my high-school, together with my mother when I saw the big bus coming…and there it was…my partener, my friend and my little "sister". In the beginning it was a little hard to communicate , even though we were talking by emails for a while.
We headed straight home where Sidsel met my parents and my grandparents who were maybe too enthusiasts. When I saw that things were not going very well, I decided together with my class mates: Catalina and Alexandra, who were in the project too, to go out. So we dressed up and went to a restaurant where all six of us discussed and have a great time. After that, we came home and I let Sidsel sleep because she was very tired after the road from Danmark to Romania.
10th March: Things improved. Sidsel started getting along with my family. She met my colegues and my teachers. We started the Danish lessons and we realized that things were more complicated than we thought….this language is more than hard to learn, but Denis, our teacher was really great and made things easier to understand.
After the classes and the lunch we went with the whole group to the mall where we stayed for the entire evening. We did a lot of funny things like playing bowling or shopping. This way we met the other members of the team and started making connections.
11th March: Very busy day. It started with presenting our local personalities, whose houses we visited after the school, along with the Public Garden. Finding more about Danmark made me feel anxious about my departure in the next year. I was very glad to show Sidsel my town, the places were I grew up, the places I love.
After the walk through Braila, we stopped to a cafeteria where we had a hot chocolate and after this we went home where we packed out things for the trip to Busteni.
12th March: The road to Busteni was very interesting, but also exhausting. For me it was not as interesting as it was for Sidsel. She seemed very excited about out mountains, keeping in mind that they don't have this type of relief in Danmark. We also visited a lot of memorial houses, the most amazing one being Hasdeu's house. Even though it was a very scary place, everyone was charmed by the guide who had a natural talent of telling stories.
In the end we arrived at the villa where we all gathered and had a great time.
13th March: Maybe the most interesting day. Everyone was looking forward to visiting the Bran Castle and they weren't let down. They were amazed by the beauty of this castle and about its architecture.
Later in the day we went to Brasov, a town in the heart of Romania were we ate and made shopping. This was a great opportunity of showing them the variety found in our country. Everone realized that Brasov is nowhere near Braila so we introduced them a bit in out country's history.
14th March: The road back home was even tiring than the first one. However we did a lot of interesting things like visiting the Peles Castle( by the way: everyone loved it).
We arrived home late so we did nothing else than go to sleep with a view to resting for the next day.
15th March: Boat trip on Danube. It could have been very interesting but we had a lot of bad luck. The weather was awful: veru cold and windy, but in spite of all this we had fun: we played cards and the Danish students teached us their national games.
In the evening me and Sidsel had a pancake party. If we hadn't been so tired we would have gone to Catalina's house for dinner, but after we gave it a little thought we decided to stay home. I think it was the best choice because everything turned out just fine, even our pancakes.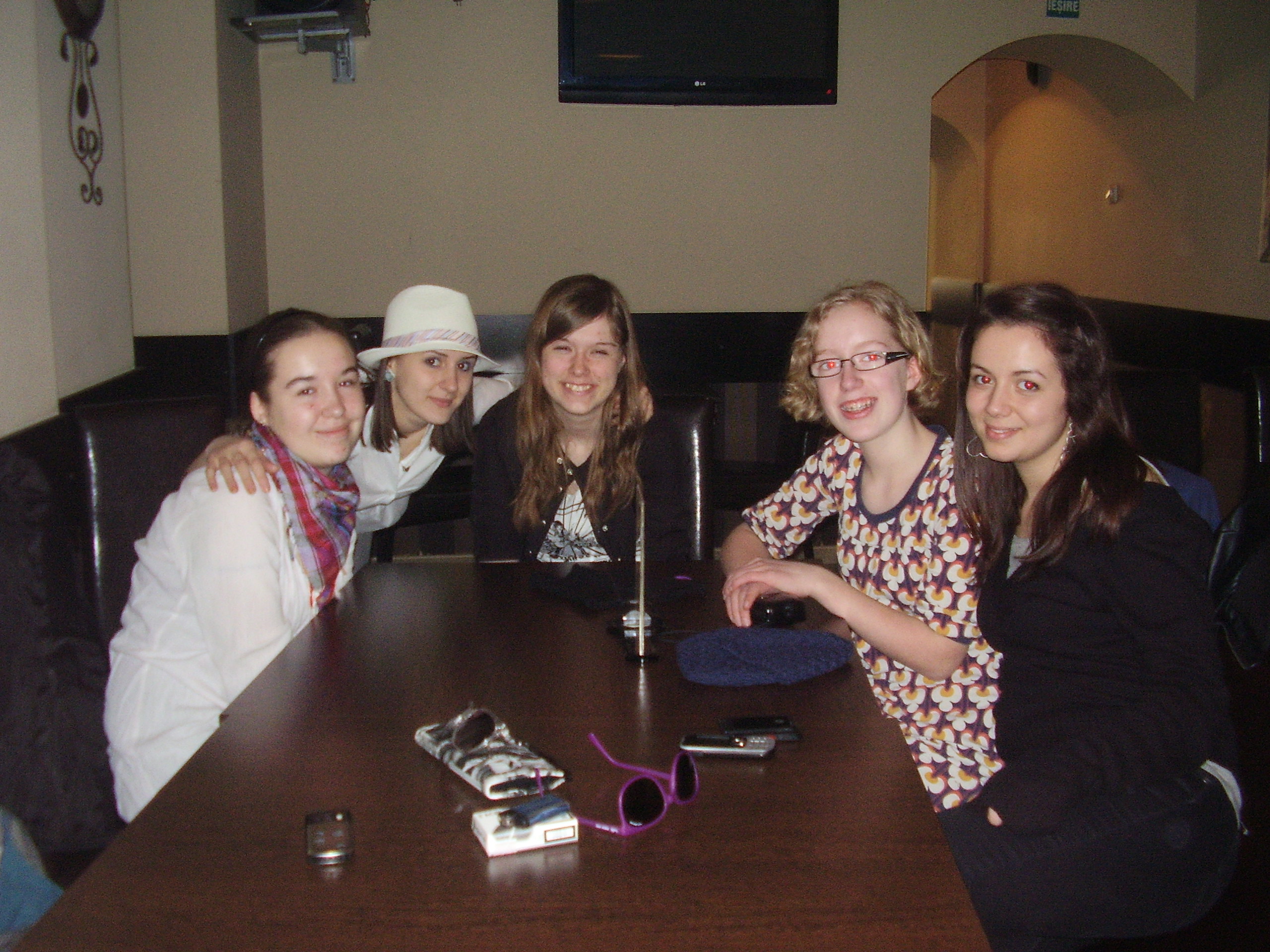 16th March: Today we visited Galati, a city very close to Braila. We only had time to visit the university in there because we were in a hurry for not missing the play that was going to take place at Maria Filloti Theatre in Braila. The both activies were interesting and crucial for the Danish students to get a better view of out country and out way of life. Sidsel and I were very pleased about what we've seen and in the evening we talked a lot about out customes and our lifestyle.
17th March: Sadly, the last day. In the morning we attended my classes and in the afternoon we went to the Braila's History Museum were we saw many artist performing. There was even a girl who sang a Danish song. I think this was a really lovely gesture and this was we showed them how hospitable we are. After this we went to my school's gym where we were learned by a choreographer a Romanian traditional dance. Many laughts.
Because it was the last night before their leaving everyone decided to go to a club, but Sidsel told me that she's not really into going because she's very tired so we went home where I helped her pack her things. We stayed up until late because we had so much to say to each other.
18th March: At 5 o'clock my alarm clocked rand and I knew it was over. Even though I was very sleepy I accompanied Sidsel to the bus. Very emotional moment, everyone was crying and saying goodbye…all we wanted was just a little more time together.
After she left I felt so alone. I really got used to her presence around me. I enjoyed sharing all with her, for 2 weeks she was like the sister that I never had. Their coming was an amazing experience and I can't wait to go to Danmark the next year. I really miss Sidsel and I think we're going to remain friends forever.
Denmark
Monday(28th of March):
We arrived in Denmark rather tired after a long way from our homes. It was very emotional seeing the Danish students again, I really missed them but most of all I missed my partner, Sidsel. She came with her family to pick me up from the train station. From the first look I realized that her family is really nice and I was sure from the first second that I'll get along with them. We went home, had dinner and after that I went to bed.
Tuesday(29th of March):
We woke up early in the morning in order to go to school. The Danish students were our guides and they presented their school which is really different from ours. We attended their classes noticing the teaching style in Denmark. After that we had a guided tour in the centre of the city with the students. Horsens, even though is rather small is a really beautiful city and I was fascinated by the fact that everyone uses a bike there. The tour ended and Sidsel's mother came to pick us up. Back home we used the free time to catch up with what happened this year.
Wednesday(30th of March):
We started our day with a biology class that was really interesting.We dissected heart and lungs that came from a pig in order to see better how they function. I found this experience very practical and I really learned something from it. After school we went to Danish Crown, the biggest slaughter house in Denmark. I was impressed by the high technology that was being used there. In the evening we all went at a youth club where we played bowling and had dinner.
Thursday(31st of March):
On this day we went to Aarhus, a town quite close to Horsens where we visited an amazing museum. It was science based and we were able to see how people were treated in the past, how medicine started and how it improved though the years. After that we went shopping and had lunch in the city center. The next activity was visiting the special exhibition dedicated the Jorn, an important Danish artist. I was impressed by his paintings, I never saw anyone that had something in common with his style. We ended our night with a play after a short citywalk.
Friday(1st of April):
In the morning we meet at the school in order to go to another art museum. Again I was fascinated by the paintings. When we finished the tour we came back to school to held our dilemma debates based on ethical issues like cloning or gene therapy. Everyone did their best and I learned new things concerning these issues. Because we had nothing planed on that night, my partner, Sidsel invited me, Catalina, Alexandra and their parteners at our place where we had a movie night.
Saturday(2nd of April):
On Saturday we went to Odense where we were in the footsteps of Hans Christian Andersen. It was an interesting experience keeping in mind that I grew up with his stories so it was great seeing how he grew up and what inspired him. After we finished visiting Odense we went to Wigwam were we split up in groups and every group had its chores. We cooked, washed the dishes and after that we played all kind of games. We had lots of activities at night and after that we all went to bed.
Sunday(3rd of April):
The camp continued and all day we had all sorts of common activities. Again we split in groups and every group made their own video or project about saving our planet. We all used our creativity and really gave our best, but we also had a lot of fun while doing it. Later in the evening the parents came and picked us up.
Monday(4th of April):
In the morning we had Danish classes. I must say that my Danish really improved after my staying in Denmark and I am actually capable of making small phrases. Later we went to the industry museum where we saw how a Danish house looked like 50, 30or 20 years ago. After that we went shopping and I remember taking a lot of picture that day. In the evening we went with the whole group at the cinema where we watched the film "I am number four". The movie was ok, not very impressing but we had a great time anyway.
Tuesday(5th of April):
The day started with ordinary classes and at 10 am we left for VIA university. The universitywas very modern and the students really friendly. I was shocked to see how many Romanians are attending that university. There we had lunch and a Romanian student presented us details about VIA. Because it was Cecilia's birthday(Alexandra partner) we went to her place where we had a little party.
Wednesday(6th of April):
Our last day in Denmark started with ordinary classes and continued with a visit at the highschool which our parteners are going to attend next year. At 15:00 we all met at school in order to set up the tables and cahirs for the giant buffet that was going to take place. Everyone came: the Romanian students, the Danish student, the teachers and the parents. We presented our videos and projects that we did in the weekend in front of everyone. It was really fun but the evening ended in melancholic mood: we were going to leave the next day.
Thursday(7th of April):
Early in the morning we all met at the train station. It was really hard to say goodbye. This project was an amazing experience and I will never regret being part of it. Me and Sidsel became good friends and we promised each other that we will meet again in the future, maybe even the next year.
Lupu Irina