First Comenius exchange visit
The first day seemed to be very long and the waiting was pretty hard. The bus arrived around 6 pm. I was barely breathing when I saw all those tired and curious faces descending from the vehicle. Waiting for my partner I saw so many people known only from the Facebook and I was so glad to remark that they were smiling at me. And then I saw Katrine. I wanted to hug her immediately but I thought that I would scare her so I just said "Hi!"
The first morning was weird. Unused to have a "sister" around, I was very exicted. After the breakfast, we went to the school where we started with the "Knowing me, knowing you activity" which was very funny and inventive even if at the beginning. After the school, we went to the mall where we really started to know each other better.
And then followed another two days full with projects, meeting, and Romanian/Danish classes. Tired but excited we were moving from the first floor to the second one, from the IT room to the auditorium hall but never complained. I found out that Danish is such a hard language and our pronunciation was funny but at least we tried :D
And finally the Friday came and we leaved to Busteni. The road was crowded and so long. We saw many memorial houses and even if they were interesting we only wanted some free time. I was pretty disappointed to notice that we were pretty separated. Saturday night we tried to make a disco but some groups formed again…Danish with Danish and Romanian with Romanian. It was kind of sad that we were not united
After visiting some memorial houses and Peles castle and Iulia Hasdeu castle our short trip to Busteni ended and we had to go back home where we started the school again.
Realizing that the days are quickly passing, we stared to be friendly one with each other and we finally learned some Danish (from our danish friends:D:D). It was funny and it seemed easier than the one learned at the school.We started to go out in the city often and it was so funny to see all the people staring at us because we were talking in english.
Wednesday was the day when we realized that everything is really ending and they will leave. A teacher from the art school taught us how to dance and after that we went to a small party organized by us for our Danish friends. And I think that it was the greatest moment from this exchange visit. For some hours we finally danced together and we have felt like we're finally good friends.
The last day came and I had to drive Katrine to the bus. There, all the people was sad and most of the girls were crying. I'll never forget how we made a 4-5 persons circle and we were staring one at each other being able to do anything for another week together. I still remember clearly how the boys were saying "We are not crying!!!"
Living with Katrine around was so nice. I always wanted a sister and she would fit :D. At the beginning, she was shy and even a little scared. Then we started to talk more and more about everything.
I don't regret that I subscribed to this project. In fact, I don't know how would. I still miss my them and I can't wait to see them again. I hope that we will always be good friends despite the distance. Jeg savner jer!
<![if !vml]>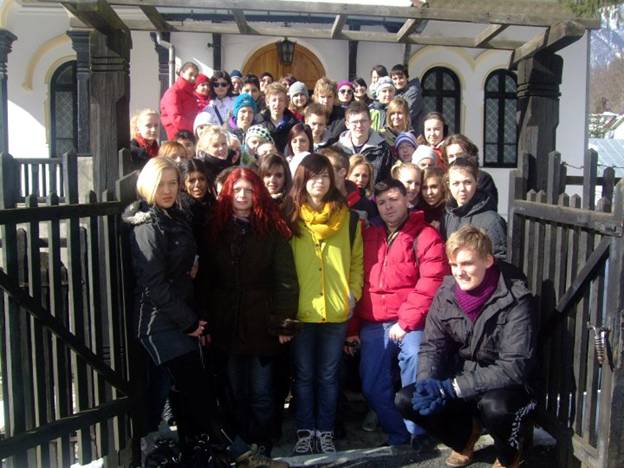 <![endif]>