My diary of the project "I'm creative"
Today on, 9TH March our Danish partners arrives in Braila at 6 p.m. We all were very excited about this project and about our meeting with our parteners. For that we, I mean the Rumanian children meet each other at 5:30 p.m. in the front of our school. When our parteners came, we went to the bus to meet them. I recognized Kamilla, the girl that staid at me immediately, because we sent each other some photos before. My first impression about her, was that she's a nice person, because she was smiling and also she came at me and hugged me. After that my father took her luggage and we went at my mother's work place because Kamilla want to know her too. Then we arrived at my house and I said her which is her room. She said to me that she likes the colours and the decoration that my house has, and I was very happy hearing this. So that we spent our time in family (and Kamilla gave us some interesting present), serving the dinner, knowing each other better and watching at one movie when the night cameJ. But the really was that we saw just a small part of that movie, because Kamilla was very tired and I let her to sleep.
Next day, on 10TH March we had a normal program. At 9 a.m. we went at school and we had some introductory activities like -Knowing me, knowing you-, and also other students made some presentation about our school and our city, for the Danish children and their treachers. After this, we went with our parteners at our class. But for them was a little bit strage being separate and for that we went with all of them in one 12TH Grade class, when one guy played us at guitar and also the other student were very nice, because they asked the Danish children some information about their city, their school and about the way that they study. Then we had the Romanian/Danish class (where we learnt the numbers from one to twenty, how to introduce ourself and the colours) and after this we went at our home, for serving the lunch and for having a rest. At 5 p.m. we weant to our shopping center, at Carrefour, where the girls became very exited and made shopping. After that we went in one café and we drank some juice and ate some cake or chips. I think that it was a successful afternoon.
<![if !vml]>

<![endif]> On Thursday we also went at school, at our classes and at 12:00 we went in our amphitheatre, where the Danish student had some presentation about their city, their school and their personalities and after that we separate in four groups and made a collage on inventors.
Then we went to our house and at 4 p.m we return to our school and we visited the memorial house of D. P. Perpessicius, our Big Garden and the Sant Nicholas church. After this we went together in Art café for spending our time.
On Friday was the leaving for the trip at mountain. Unfortunatelly I couldn't go with them, but I joined to the group on Saturday night. In that night we had a "small party", I mean we listened to music, and knowing each other better.
<![if !vml]>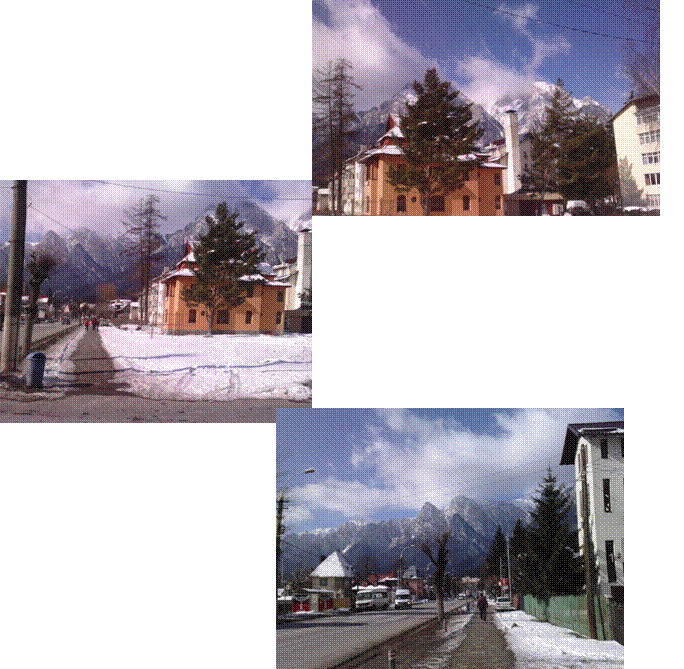 <![endif]> On the next day we woke up, we serve the breakfast and we went to the Cezar Petrescu memorial house and after this we had free time for three ours in Busteni, in which we walked by there, we went in their shopping center and also at one café.
Then we visited Peles castle and of the Danish students were really impressed by it, they said that's gorgeousJ.
<![if !vml]>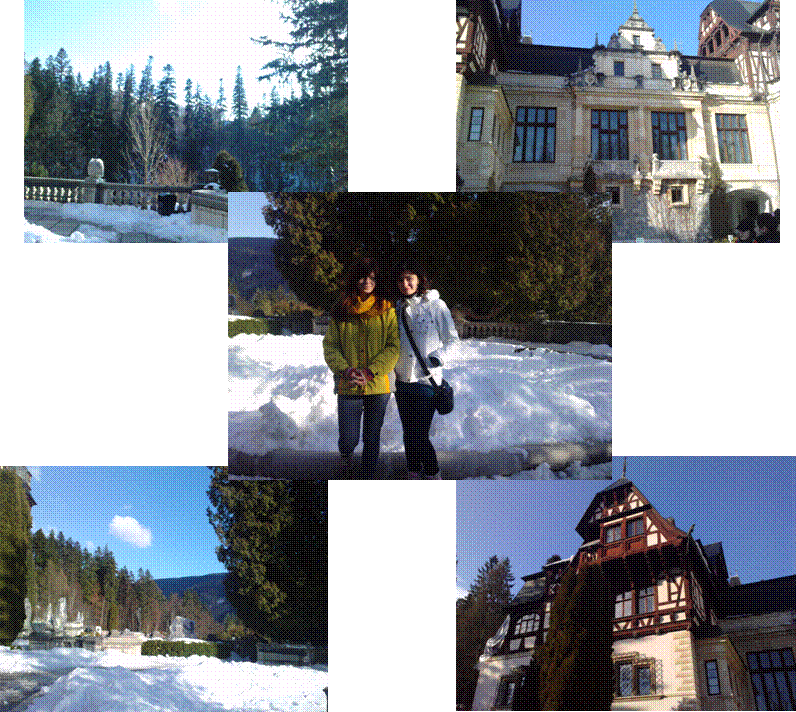 <![endif]>
After that we returned back home, and this took very long for meK…
We arrived home very tired and me and Kamilla just ate something and went to sleep.
On 15TH March we had also a normall programm at school, we had also the Romanian/Danish class (where we learnt some verbs, the days of one week and how to say "good morning", "good evening", "good afternoon", 'good night") and after that we went to our amphitheatre, when we finished our collage and after that we said some word about the people who we had a photo.
On afternoon we had a lot of fun, because we made a boat ride on the Danube riverJ.
<![if !vml]>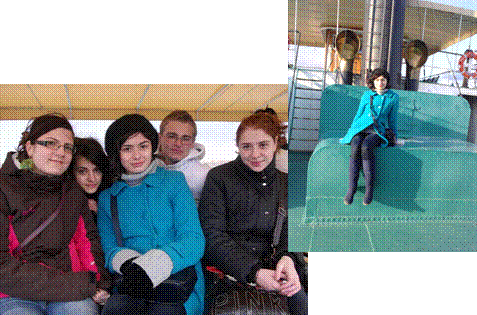 <![endif]>
It was a little bit bad for us because outside it was cold, and it was raining. But despite these thing we had also one successful dayJ.
On the next day we went at school when learnt new things at ours at ours Romanian/Danish classes (here we learnt the month of the year, how to say "what time is it", "thank you" and another words that we have to mimic). Then we visit the University -City of Galati-higher system of education, and after that we went at our "Maria Filotti" theatre.
And last but not the least on Friday at our school we have also our Danish class (and we learnt somes things as the number from twenty one to fourty, and other words with which we can find the position of an institution, like "left" "right"…). However my opinion about this class is that learning some words in a new language represent an interesting thing, because it can be useful to you when you expect less. And also the teacher, Dennis seems to be realy nice at this classJ. On 4 p.m. we went to our museum where some children from Art school played at piano, at violin or at another instrument, and other were singing or dancing. Than we went to our school's gym where we learnt some Romanian dance and the Danish students said that it was interestingJ.
Because it was the first night, I went with Kamilla and with my parents at our shopping center, where we bought her a present that she wanted. She chose a very nice box, made by wood in which you can put your candy, that had the Dracula face and the Bran castle view on it. I'm hapy because she seems to be very delightful by itJ. After shopping, we played some games and we went to one café together.
<![if !vml]>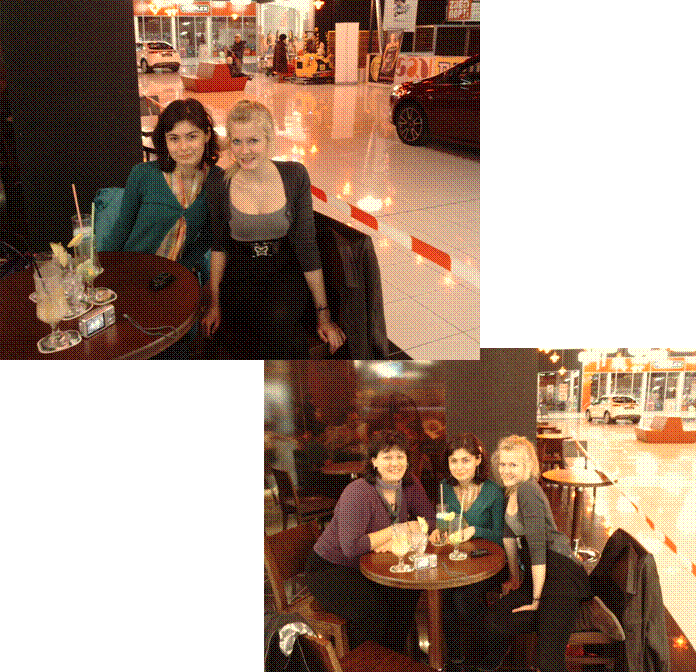 <![endif]>
When we came back home we helped Kamilla for making her luggage.
The next day at 6 a.m. they left us for the airport. It was a little sad moment because in these ten days we had accommodate with our parteners and we had understood well with them, in this period.L And now we just speake on messenger with them and we expect to leave in Denmark on next year tooJ.